8 Tips to getting your home ready to sell without spending a lot of money.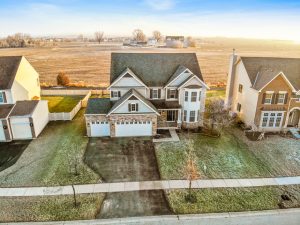 Spring is typically when the housing market gets flooded with homes! We always suggest beating your neighbors to the punch and listing your home a little earlier than most. Less for buyers to choose from can mean more money in your pocket. Often times the task of listing your home can be daunting and many do not know where to begin, let our experience work for you! Below find a list of items that are rather inexpensive and will not only make your home look great, but will also help to sell faster and for more money.
Paint-for 30 dollars you can buy a gallon of paint. Change the whole look of your home. So long are browns and beiges and hello to grey and white pallets. Our favorite colors that go with everything are from Sherwin Williams we like them so much we use them in ourown homes!

Repose Gray, and Eider White are stunning on the wall and really do a wonderful job of toning down oak tones you may already have in your home. They brighten up dark spaces and give a clean neutral look to your home.

Pussywillow gray SW 7643 it is a touch darker than repose gray and looks beautiful in any home. If this seems to dark for you, you can have it cut by 50% and it will give you the same tone just lighter. See below the great room from our newest listing 7216 Yorkshire, Joliet IL 60431 painted in Pussywillow Gray.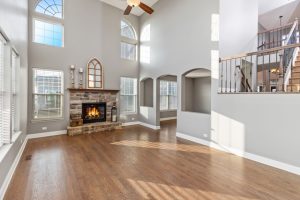 2. Declutter-Staging your home will help to highlight your homes strengths, hide its weaknesses and helps it to appeal to buyers. Depersonalizing your home and removing clutter and small décor items will give your home a fresh appearance. Start by packing away or donating items that you will no longer need or wont use for the next 3-4 months. Removing clutter will give the feeling of having more space. You want home buyers to imagine living in your home and making their own memories there rather than taking a tour down your family's memory lane. Pictures should be removed off the fridge, above the cabinets should be clear and your countertops should be sparse.
3. Fresh towels and bath mats- You don't need to spend a lot of money. Run to Homegoods, Target, Walmart or even The Dollar Store. Make your bathrooms fresh and spa like. Roll up some bright white hand towels next to the bath tub, add a bench with some bath salts, and fresh bar of soap. You don't need a whole bathroom remodel to appeal to buyers. Small details will help greatly. Maybe your bathroom doesn't have double bowl sinks but does have a large bath tub. Play up what you do have by enhancing the features that stand out, sprinkle some rose petals, add a plush rug and accentuate your assets.  See below how some inexpensive towels, a vase with some flowers and bench transformed this bathroom into a spa, cant you envision yourself there now!
4. Deep Clean-This is a huge deal. To the buyer your home  is 'brand new to them' New home buyers will see everything you don't. We suggest taking a few days yourself or spending a few hundred dollars and hiring a company to come in and DEEP clean your home. Doing this just before your first showing is best so its fresh. After its clean its easy to maintain and the buyers know they are getting a home that was well cared for.
Have your windows professionally cleaned to give your home a lighter feel inside and out. Don't forget to have the curtains, blinds and shelves around the home dusted and cleaned as well. Opening vents and washing the covers and vacuuming inside is another great idea. Light fixtures and lamps should be wiped down and don't forget those pesky cobwebs in vaulted entryways.
5. Lighting – Light fixtures go in and out of style, never thought we would see gold coming back around but it is here! Lights can often be purchased and installed easily and inexpensively adding a pendants to builder grade kitchen or a chandelier over the dining room table can change the whole look of a house. Amazon usually has some knock off Pottery Barn Lights for a steal and are delivered next day with PRIME. See how these glass gloves and table area chandelier transformed this kitchen!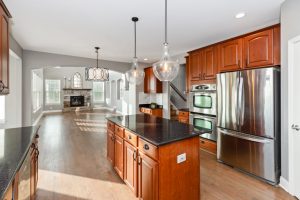 6. Bedspreads– replace busy or loud looking bedspreads with a neutral white or gray, especially in the master suite you want a tranquil place to land your head. Target and also Homegoods have very inexpensive plain bedding that you can purchase for the purpose of showing the home they even come in sets.  If your not in love with it swap it out for showings. This can be a great way to give your room an updated feel without spending a lot of money.
7. Landscaping– Its still winter so no ones yard looks inviting right now. A quick clean up, removing dead leaves, flags and lawn ornaments can really spruce up the yard. Old furniture that's not looking so hot anymore can be stored in your garage and out of sight.
8. Call your Favorite Realtors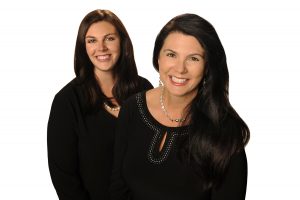 for your complimentary home evaluation. We can get you a true picture of what your home can sell for. Let us walk through with you for pointers. Sometimes a fresh pair of eyes can help point out things you may not notice. Spring is right around the corner now is the perfect time to get ready.
http://https://michelemorrisrealty.com/team/
Michele Morris – Managing Broker/Owner 630-669-4469
Amanda Albrecht- Broker 815-715-5904