Let me start by telling you there was absolutely nothing wrong with my powder bath before i began this project…other than the fact that i spend to much time on pinterest and houzz.com coming up with many many ideas on what my home could be.  We built our home New with a builder and picked out everything we wanted however if you have ever built a home with a builder before you will know that it comes pretty bare boned. We are on a mission to add character to our home a little bit at a time with small renovations and some big ones over time.
Thankfully my hubby happens to be a jack of all trades and can literally do just about anything in terms of home renovations. We save a ton of money by not having to pay for the labor for these projects and i am a sucker for deals so i am always looking for a steal when it comes to materials.
Im going to walk you through how we completed this look and will give you sources for your own DIY bathroom redo!
First off, i wanted a vintage inspired powder bath, something that would be timeless and less trendy that i could keep over time. So many designs go in and out and i am so not bold enough to do anything totally out there. I originally had it in my mind to do penny rounds but changed my mind after i fell upon these beautiful Carrara Marble Hexagon tiles.
A little background, These little tiles allowed for unique designs and made the cramped spaces feel much bigger than they actually were in early 1900s homes.  Hexagon tiles (typically white) were a hugely popular choice for floor tile. The design of these can be as simple as all white or could contain a complex pattern of different colors and designs. Their small 1″ size allowed for some very creative mosaic patterns to be incorporated by a skilled tile setter. ( im not sure Gary is a skilled setter but he killed it)
We choose a modern styled hexagon tile that had some vintage and modern feels mixed, most of all it has grey mixed into the white and hello if you have seen my house you would know my favorite color most defiantly is grey. For the wall i know because it was such a small bathroom i didnt want anything busy and floor to ceiling was the way to go to bring some height into the space.
Sources for the tile are here. https://www.tileshop.com/product/hampton+carrara+tumbled+hex+1+x+1+in.do?sortby=ourPicks&from=Search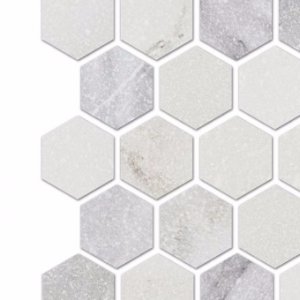 https://www.tileshop.com/product/hampton+carrara+tumbled+amalfi+marble+mosaic+tile+-+2+x+4+in..do?sortby=ourPicks&from=Search
I looked around for good prices on the marble as it can be pricey, We settled on the Tile Shop in Naperville, Ilinois. They usually run specials 20% off but even better they will match Contractor pricing which is 25% off on your tile purchases which brought my sqft price down to about 11.00 which was not terrible for Carrara Marble.
Our bathroom was 5ft by 5ft and 9ft tall ceilings rather small, my main objective was to have it an elegant and larger feel, our original dark floors were making the space feel to small. after we took out the floor,sink, and toilet we painted the walls a shade lighter than the rest of the home to brighten up the room a bit we went with:
SW 7641
Colonnade Gray it seemed to pick up some of the taupe colors in the marble as well!
The wall was up first and this was a learning moment, first of all i seem to think all projects take an hour, this obviously was not the case and apparently tile is a big deal, Gary thought he would save some time by measuring and cutting first before he even started so he cut almost a WHOLE box of marble wall tiles first, he got through the first row and the last piece went in and he sorrily realized that he cut 9 Whole pieces of tile about 5 inches to short. Me having so much faith in him only had 4 extra sheets of tile for mistakes we were in trouble.
We had a tad bit of a freak out moment but his quick thinking saved the day and he was able to piece together the sheets he cut and saved the day!
His next issue was the tile kept sliding down the wall, he at one point yelled to me and said if these tiles start falling onto my head im throwing in the towel, lucky for me some nails screwed into the wall helped to hold the tiles in place while he worked on the next rows.
Day 2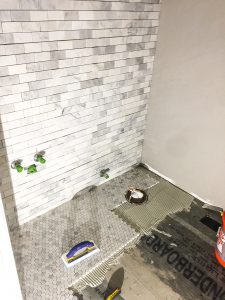 The floor goes in… my favorite part, this went much smoother than the wall also was faster process.
We waited to grout until both wall and floor were laid so we only had the mess once
Day 3 Grout day! I picked out a color called whisper Grey also from The Tile Shop, i love how it accented the tile and was not as bright as white it really gives it a modern feel.
Day 4. the grout is dry and we can seal the tile, Marble absorbs so you have to seal it, we used a sealer that is suppose to last 15 years and 2 coats was put on.
Day 5 we get to put the bathroom back together, we purchased a 24 inch grey vanity from Home Depot and it was a steal only $299. Home Decorators Collection and it even has soft close doors! Our existing toilet went back in and we found a brushed nickle floor vent to match with the other bath accessories.
Hope you enjoy!